Your benefit is our piority
Financial Instruments and Derivatives
Investment could be very dangerous, we'll guide you through the path of success
Our financial risk management division utilizes a team of highly experienced financial professionals to help enterprises manage and improve the performance of their financial practice. Our professionals bring a resourceful combination of financial analysis skill, business acumen and a great understanding of the market.
All senior members of the division hold one or more of the following professional designations:
Our core services of the Financial Risk Management Division including but not limited to:
Our financial instruments and derivatives valuation services include:
To sustain and prevail in the ever-intensifying global competition, companies are seeking opportunities in expanding and upgrading their existing premises, developing and exploring new markets, as well as acquiring and integrating with business competitors or partners. It is a long and challenging process to implement your business strategies effectively and there are a number of risks that you have to undertake:
You may have experts to manage your business risk by devising feasible strategies, implementing the plans effectively and evaluating the results regularly. However, the most important issue that no business manager can afford to overlook would be financial risk, one of the catalysts that would either make or break a business.
FINANCIAL RISK MANAGEMENT
Financial risk management is a framework of adding economic value to a company by identifying and managing risk exposures such as market risk, credit risk, foreign exchange risk, interest rate risk and liquidity risk by implementing various strategies.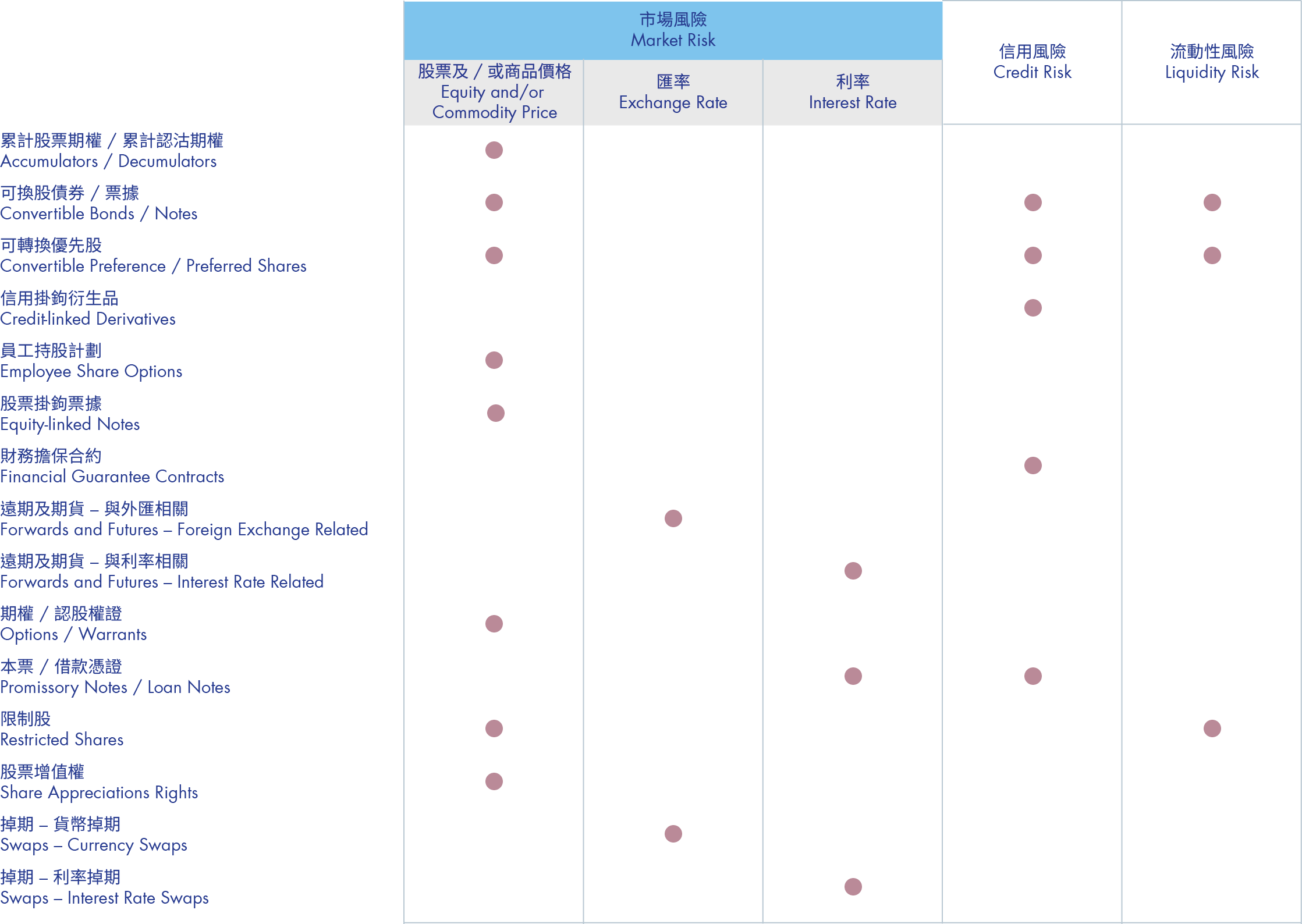 Market risk is the potential risk for an investor to suffer losses from fluctuations in equity price, interest rate, exchange rate, commodity price, and etc.
It is all about funding when it comes to realizing your ambitious business plans. Convertible bonds have become one of the most popular funding tools for listed companies to attract investors. They are a type of compound financial instrument with an option to allow its holders to convert into the issuer's common shares. Convertible bonds have a lower financing cost compared with straight bonds with the same risk profile, and their structures are customized for each specific issuance. 
Other than the conversion option, some convertible bonds also have the holder's protection rights like early redemption option. However, to an issuer, these embedded options are instruments that increase a company's market risk exposure. Issuer is obliged to redeem or repurchase their convertible bonds prior to the maturity date in conjunction with its company's share price performance or other market conditions. As a result, cash flow deteriorates and business plan could be negatively affected.
Raising fund by issuing structured financial products (not limited to convertible bonds) is a complex process that requires much relevant experience and professionalism to carry out risk strategy structuring and assessment on the risk exposure of a company. GCA can:
●  Advise on packaging your structured financial products to minimize any unpredictable adverse effects on cash flows
●  Perform timely sensitivity tests on market risk exposures
●  Provide valuation services on the fair value of instruments in order to satisfy regulatory demands and update the presentation and disclosure          requirements of the International Accounting Standards (IASs).
●  Provide mark-to-market valuation regularly to update your investment strategies needs if you have invested in other companies by acquiring their equity instruments or complex financial instruments
Credit risk is the risk of loss of principal or loss of a financial reward stemming from a borrower's failure to repay or otherwise honor a contractual obligation. Credit risk arises whenever a borrower is expecting to use future cash flows to pay a current debt. Investors are compensated for assuming credit risk by way of interest payments from the borrower or issuer of a debt obligation.
Entering into a new market or developing a new product through joint venture with other entities is very common. It is usual to involve loan guarantee arrangement to help joint venture partners to obtain credit for the project. Under general loan guarantee contracts, a guarantor is liable for the borrower's obligation to the lender on the guaranteed amount. The guarantor is exposed to credit risk because the partners may fail to honor the loan obligations. It is therefore crucial to conduct a thorough financial analysis and financial risk assessment before acting as anyone's guarantor.
We specialize in credit analysis reports on loan borrowers, and we can:
●  Advise on credit risk mitigation solutions
●  Value the expected loss on corporate loan guarantees to comply with the IASs
●  Provide credit risk assessment if you have invested in structured credit-linked products
Foreign exchange risk is the risk of change in the value of investments due to fluctuations in currency exchange rates.
Fluctuations of currency exchange rates can result in significant loss to companies with global operations; sometimes that could be far beyond your expectation. It is a common practice for some companies to mitigate currency fluctuation risk by implementing foreign exchange risk control policies. However, most of the companies do not have plans to deal with foreign exchange risk and are often left exposed to large fluctuation risk.
●  Assess your foreign exchange risk exposure and formulate your risk control policies
●  Offer mark-to-market valuation service on your existing foreign exchange contracts to assess your current foreign exchange risk
●  Assist in presentation and disclosure of your existing foreign exchange contracts in line with the IASs
Interest rate risk is the risk of change in investment's value due to change in the absolute level of interest rates, the spread between two rates, the shape of the yield curve or any other interest rate relationship. These changes usually affect securities adversely and can be reduced by diversification (investing in fixed-income securities with different durations) or hedging (e.g. through an interest rate swap).
Many businesses may take out floating rate loans. Changes on these floating rate interest borrowings have significant impact on an entity's performance. Increasing volatility of interest rate has elevated companies' attention on hedging their risks. It is common to use derivatives (hedging items) to mitigate interest rate risks that stem from borrowings or daily operation transactions (hedged item). Under International Accounting Standards 39 (IAS 39), applying hedge accounting could avoid much of the volatility of hedged item in the income statement.
To meet the hedge accounting requirements in IAS 39, companies are required to identify, document and test the effectiveness of the qualified transactions. Applying hedge accounting involves complex evaluation and assessment on the hedging relationship between hedged items and hedging items. GCA can:
●  Provide prospective and retrospective effectiveness tests as well as advisory on the costs and benefits in applying hedge accounting
●  Provide preliminary assessment on the relationship between hedged items and hedging items
Liquidity risk is the risk stemming from the lack of marketability of an investment that cannot be bought or sold quickly enough to prevent or minimize a loss.
Nowadays, global economy transformation is at a pace faster than ever before. A company may revise its investment strategies (projects expansion, delay and abandonment in the future) depending on how circumstances evolve from time to time. Real options analyses are managerial applications to help identify, justify and organize company strategies amidst valuable, and yet, uncertain growth opportunities. With real option analysis, company will be equipped with analytical flexibility on its future cash flows analysis and assessment on its liquidity risks under various investment scenarios.
In the dynamic global business world, agility, flexibility and responsiveness are often a company's key to survival. We can:
●  Provide accurate, up-to-date and realistic forecast on your project using real option model to explore embedded risks
●  Identify possibilities and threats to assist you in making good management decisions.